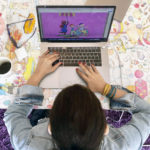 I believe that good design is honest design, it does not compromise on meaning or usability, it is understandable, powerful yet humble. It is socially responsible and benefits from the technological evolution.
I have been working as a visual communicator for the past 16 years and I still feel the same excitement of a new challenge every time I receive a new brief. I enjoy putting my design skills to find solutions that create experiences, build empathy, facilitate understanding, document stories and make a stand. I am also a design educator, which challenges my design curiosity and allows me to share my design passion and experience.
I enjoy the design outcome as much as the process. I believe that a project driven by a thorough analysis and an adaptable approach leads to a solid solution.